Join us........for a Holiday Community Dinner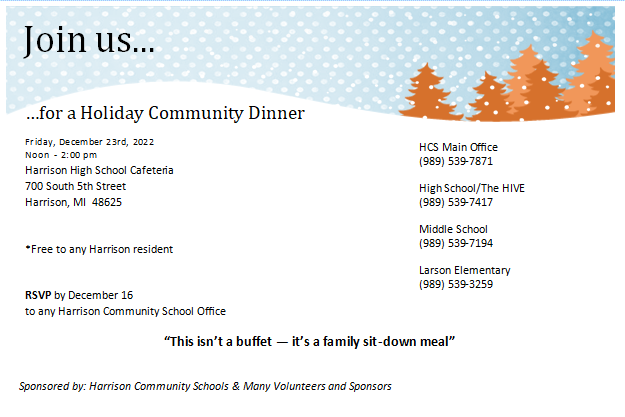 Just a reminder that picture retakes are Monday the 21st. If your child needs a retake, we have new forms in the office or you can go online to: geskusphoto.com/fallorders The school code is: 6359YMMXYWQCZT

Save the Dates! Information will be coming home soon about our upcoming holiday concert! K&1 will have their recital on December 20th, 9:30-10:30 at the Larson Gym. 2nd - 5th grade will have an evening performance at the HHS auditorium on December 14th. 2nd & 3rd grade will perform approximately between 5:30-6:00, and 4th and 5th performances will take place between 6:00-6:40. We are staggering times due to the size of our groups. We are so excited to show off our musicians. Mrs. Hutton, our music teacher, will send home more information in the next few weeks but please mark your calendars for the dates.
Our Food Drive is heading into its second week. It has been a slow start, but we have high hopes for more and more donations to help us fill these shelves. Remember all donated food and money goes to a local food pantry. Thank you for your support! Go Hornets!

Larson Elementary is looking for an Academic Interventionist. Please see attached job posting for application information.

Don't forget about the 2022 Harrison Arts & Crafts Showcase!! Saturday, November 12th, 9:00 a.m. - 3:00 p.m.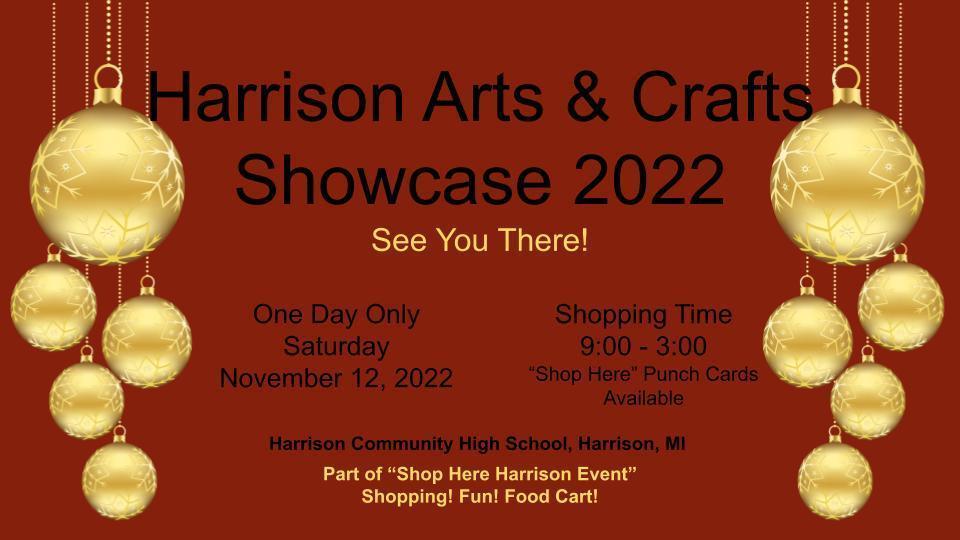 Don't Forget. Larson is hosting a FREE family event! The SPOOKTACULAR is Tuesday October 25 from 4 to 5:30. Wear your costumes and bring the whole family for an afternoon of spooky games and fun treats! We hope to see you there!

CMDHD Back to School Immunization Clinic scheduled for Tuesday, November 8, from 4-6pm at their Clare County office: 815 N. Clare Ave., Suite B in Harrison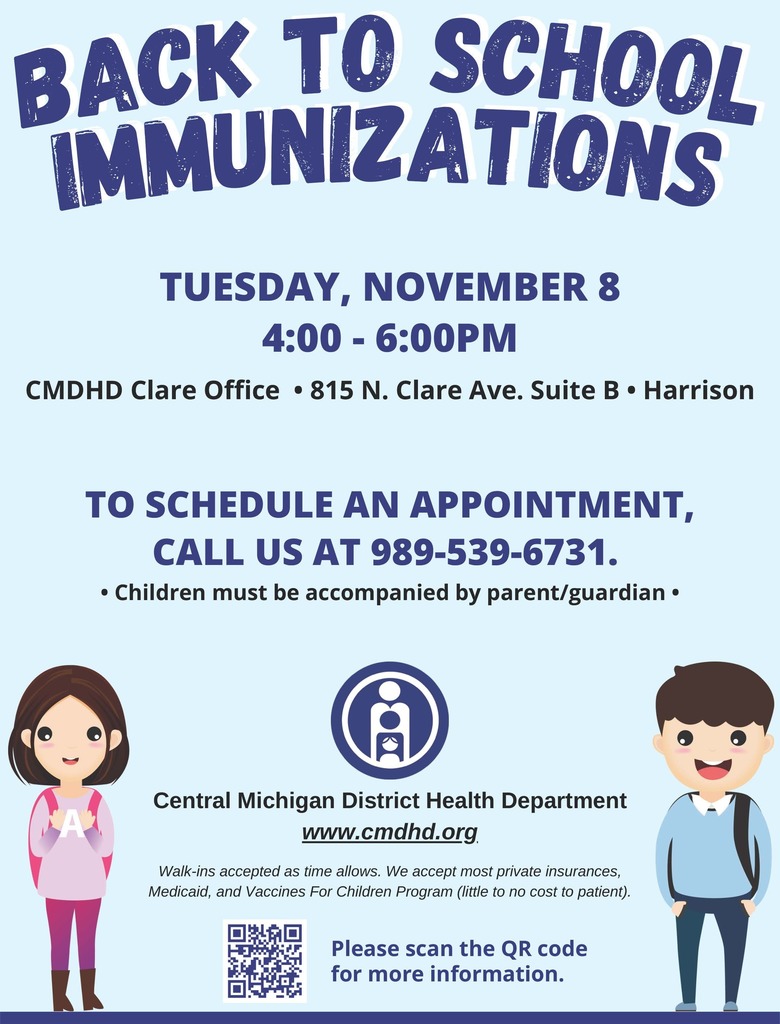 Larson Elementary is looking for a Special Education Paraprofessional. Please see attached job posting for application information.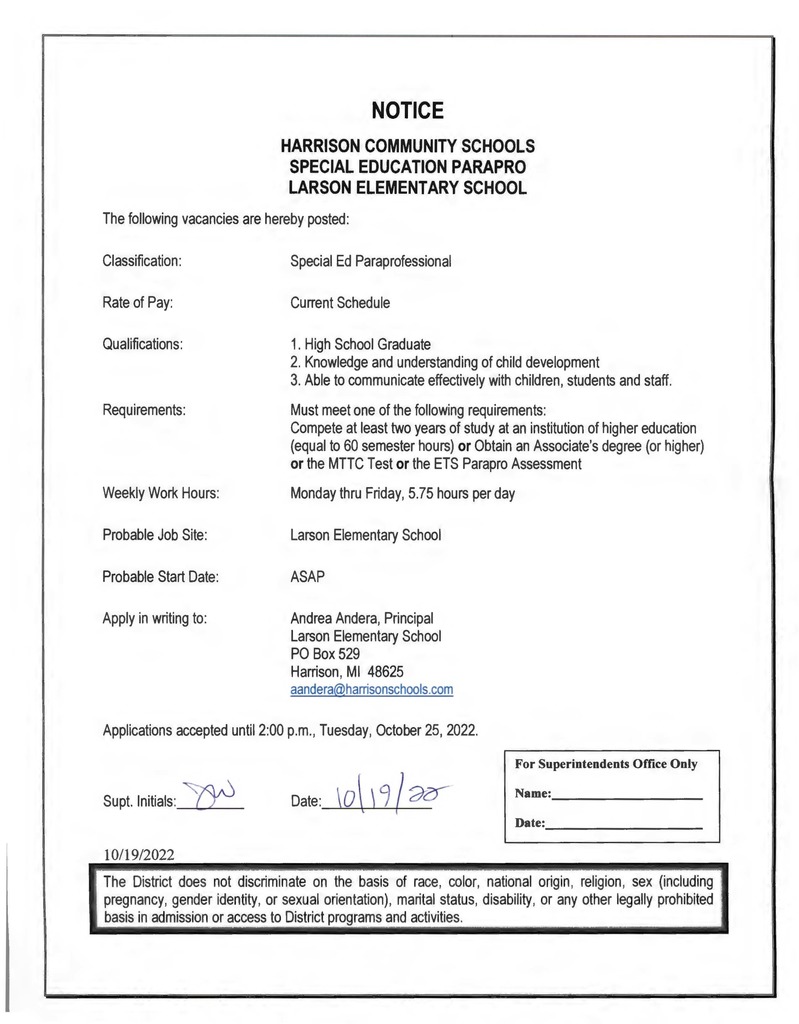 Harrison Community Schools Wellness Policy and School Based Health Clinic Meeting October 20, 2022 3:15 P.M. High School Media Center Public encouraged to attend.

Tomorrow is Parent Teacher Conferences and a half-day. Friday is also a half-day. Dismissal is 11:40am. Conferences are from 1-4, and 5-8. We are looking forward to seeing everyone!
Parent Teacher Conferences are Thursday October 13. Conferences are held from 1 to 4 pm and 5 to 8 pm. If you have not returned your Parent Teacher Conference form, you can call the office to check for a time that is available. It is important to work cooperatively with the school to do what is best for your young person. We look forward to celebrating your young person with you.

Larson Picture Day is not until October 19th. The marquee outside is for HHS, showing picture day as tomorrow. That is only for HHS. Larson picture day is October 19th. Sorry for the confusion. Larson spirit day tomorrow is College / Team day, wear your favorite college or other team gear!

Larson Families - your copy of the September edition of the Larson Newsletter will come home today. See the back page for information about how we will celebrate Spirit Week. Here are our dress up days: Monday Rock Band: - a drummer at heart? Lead singer in the band? Show us your rock and roll style! Tuesday Celebrity / Senior Citizen: Go as your favorite celebrity or dress like a Senior Citizen! Wednesday College / Team Day: Wear your favorite college or other team gear! Thursday Cowboy / Camo - Giddyup! Dress in wild west gear or camouflage! Friday Blue & Gold - support your Hornet team today or wear your favorite Hornet clothes! It is also Hat Day - wear a hat for $1 - proceeds go to offset costs for 5th grade Track Meet t-shirts (spring event).
Reminder Larson Families! School Dismissal Manager goes live tomorrow Monday September 12. We are excited for this to work! Thank you for your continued patience! Go Blue! 💙💛🚘🐝

Larson Families: Make sure you have logged into School Dismissal Manager and updated your child's Default transportation plan. This is what they will do on a regular basis. You can also add changes day to day, called exceptions. Starting September 12, the car line off of Fifth Street is ONLY for those using the App and "self-check in". If you are not set up with the app, you will have to wait until the buses leave, then park and walk up to the main entrance off of Spruce street and have your ID ready if you plan to pick up. We will help you after the bus line is clear. Starting September 12, we will not have staff available in the car line out back for those walking up. You must go to the main entrance. Even if your child rides the bus, go on and choose BUS as their default. If you do not have an email from School Dismissal Manager with your login credentials, or have any questions at all regarding what to do, contact us in the office right away! We will help with this! Together we can make dismissal safe and efficient. Thank you for your patience and understanding as we work through this new procedure.

Hello Larson Families, Here is an introductory video about our new program, Student Dismissal Manager. Credentials have been emailed. We will be going live with SDM and Fastlane beginning September 12th! You will be able to self-check when you pick up your child at the end of the day beginning September 12th. If you park elsewhere, or cannot use the site and plan to pick up, you will need to park out front after the buses leave and then walk up. This too will begin September 12th. You could choose "Walker" as your child's default, and plan to meet them out in the front. You will not use the Fast Lane self-check feature if this is your choice. Please note, we will not have school staff that can walk the walkers to the crossing guard every day, but we will do the best we can. We all want our children to be safe.
https://youtu.be/ObUaDoKW-lw?t=2

School Dismissal Manager credentials were emailed (check your SPAM). Parent / Guardians, please update your child's default transportation plan! We will begin using this on September 12th (you will be able to make any changes to dismissal and use the "self-check-in" feature at dismissal time yourself)! Give us a call in the office if you have questions. If you did not receive an email, it means we did not have one on file and you will need to give us a call to set it up. If you cannot use the online system, and you plan to pick your child up, you will need to park and check in at the main office (off of Spruce Street, and after the buses are dismissed) after September 12. We know this is a new process for all and our goal is safety and efficiency. Thank you for your patience and understanding. Again, this will begin on September 12th!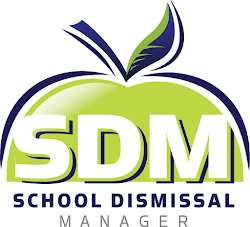 Larson will celebrate International Dot Day on Friday September 9, 2022. More information will come home this week. Students will read The Dot and make their mark with an art project during school. Then from 5 to 6 families are invited to come to Larson and make their mark with sidewalk chalk. Please plan on joining us to make your mark! There will be food and fun. We then head to the football game to cheer on our Hornets!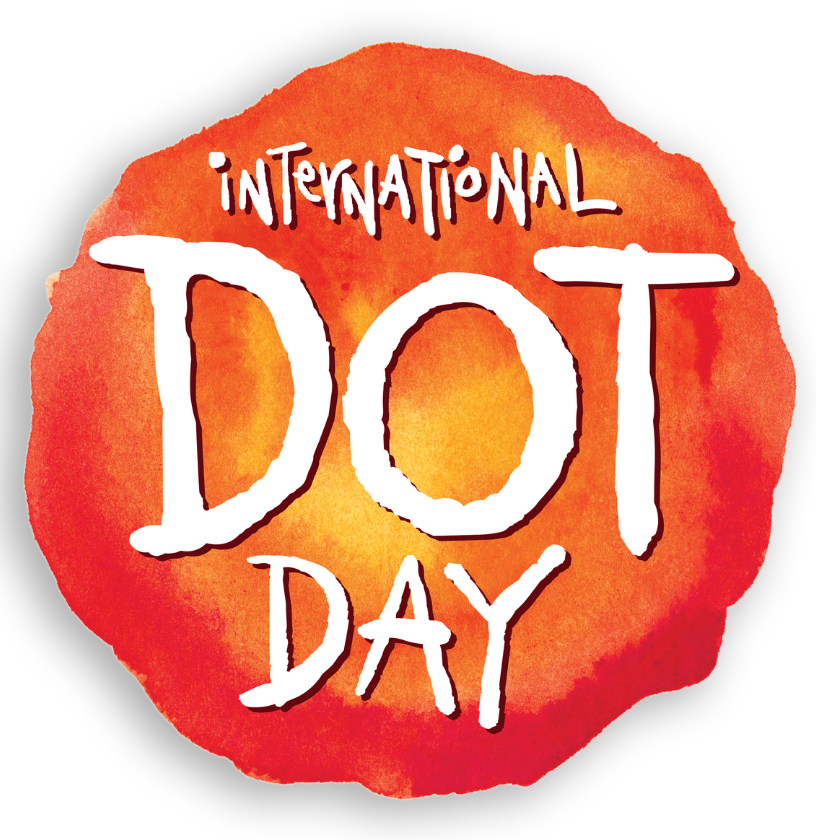 Larson Staff looks forward to meeting you all at our Open House from 3:30-5:30 this afternoon! We are fired up for a fabulous school year! Go Blue!